Earlier this week, we visited the recently developed Dim Sum Love and could not contain our contentment with the contemporary Hong Kong style cuisine. Furbished with minimalist interior decoration, the restaurant achieves a modern vibe that is unlike the usual Hong Kong style of dining.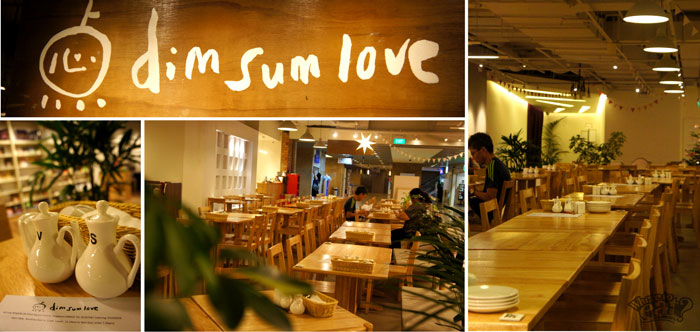 Dim Sum Love is staffed with young talented chefs, formerly from renowned hotels and restaurants, with years of culinary experience. The lady boss herself runs the Heath Bistro at Singapore EXPO, and pays careful attention in the selection of fine quality ingredients, so as to be able to deliver top notch food and services to her diners.
We started off promptly with a Daily Special Dim Sum Sampler Platter ($10.80/U.P. $15.80) with Tea, which we thought was a brilliant take on offering variety. For diners who cannot decide which delicacies to devour in, the platter would make a good selection as it comes with five of the restaurant's most sought after dim sum. This includes a mini Char Siu Pau, Siew Mai topped with caviar, Spring Roll, Carrot Cake that was fried to perfection and Egg Tart that had an unbeatable taste.
Fluffy and soft to touch, the Char Siu Pau ($3.90) was sweet to taste with generous fillings of tender and juicy meat. The Custard Bun ($3.90) with salted egg yolk was also a hit, I suggest you partake this warm wholesomeness with caution so as not to waste any of that oozing golden goodness.
We also had a go at the Shanghai Xiao Long Bao ($3.90) and was impressed with the delicate quality of the skin. Served on a bed of fresh lettuce instead of the typical cloth napkin, the Xiao Long Bao is not absorbed of its moisture and remains separable from the bamboo basket without falling apart. Its perfect texture, thin and sturdy enough, was able to seal the rich and flavourful meat inside.
One should never leave a dim sum place without trying the Har Kau ($3.90) – the doneness of the translucent dumpling skin can make or break a dim sum experience. Springy with fresh whole shrimps inside, the Har Kau did justice to Dim Sum Love. You can also take delight in the freshness and juiciness of the prawns in the Fresh Prawn Cheong Fun ($4.20).
For a more localized taste, do give the Crispy Red Bean w/ Banana ($3.90) a try. This dish reminded me of crisp and moist Goreng Pisang, minus the crumbs, plus the red bean paste. I found it was an acquired taste, but my companions thought it was enjoyable.
Instead, what I thought was especially enjoyable was the Egg Tarts ($3.90) that came in bite sized pieces. It had the elements of Portugese flaky crust pastry with Hong Kong sweet soft egg tart filling – best combination ever.
Duck lovers should consider having the Roast Duck Noodle ($6.50). The tender roast duck served in a savoury broth atop thin al dente egg noodles, or Mee Kia, is really good and flavourful. However, if you are not a fan of duck, consider having the heavily infused Herbal Chicken in Lotus Leaf ($6.50/Add Noodles $7.50) or succulent and tasty Prawn Dumpling Soup (With/Without Rice $6.50).
We also had a generous serving of Mixed Vegetables Curry ($6.50), which delivered just the right level of spiciness in light creamy sauce. And fresh green Hong Kong Kai Lan in Oyster Sauce (S $4.90/L $6.90), which was soft yet crisp and slightly bitter at the stem – due to the natural taste of Kai Lan.
We finally embarked on some Hong Kong desserts that include Chinese Herbal Jelly ($3.90), or Gui Ling Gao, Mango Pudding ($3.90) and Double Boiled Tianjin Pear with Tangerine Tea ($4.90) –all of which were served cold, delicious and particularly refreshing.
Apart from the tempting range of food, Dim Sum Love also takes pleasure in serving the best Local Tea and Local Coffee ($1.20–$1.80), prepared by one of Singapore's most famous Kopi Master, formerly from Nanyang Old Coffee. If you like your daily cup smooth and well-balanced with rich aromatic flavours, we reckon you will enjoy the drinks crafted by him as much as we had.
No longer do you need to struggle against the sweltering heat outdoors for a traditional breakfast of toast, eggs and coffee. The air-conditioned restaurant also offers breakfast options that are sure to whet any appetite. Their special breakfast promotion set of Kaya Toast ($3.20) comes with two perfectly half-boiled eggs and a choice of local tea or coffee.
Overall, we would like to extend our gratitude to the lady boss and her service staffs for their gracious hospitality, ensuring our dim sum experience was a pleasurable one.
Dim Sum Love is capable of housing a maximum seating capacity of 120 pax for customized company events, from as low as $10 per pax. With a large number of expatriates and locals streaming in the restaurant during lunch hours, it is easy to see that Dim Sum Love is well appreciated by many. I am almost certain that this emerging restaurant will make it to the lists of best dim sum restaurants in Singapore in due time.
Dim Sum Love
18 Cross Street
B1-05 China Square Central
Singapore 048423
T: 6536 7667
Operating Hours: 8am – 11am (Breakfast)
11.15am – 9pm (Lunch & Dinner)
7.30pm (Last Order)