Gangnam Station in Seoul, South Korea, serves as a pivotal point between subways and buses to all over Seoul. In Gangnam, people are very health conscious, and any food consumed must bring nutritional benefits to the body otherwise deem unfavourable. This is what Gangnam Restaurant Korean BBQ is all about, bringing the district's subway concept and healthy food culture to our locals.
From the way the dishes are prepared, right down to the karaoke set and mini-figurines that complete the interior, everything about the restaurant is truly Korean. Opened in June 2011, the restaurant has been visited by popular Korean musician Brian Joo.
The restaurant was not hard to locate, it looks like an entrance of a subway station that sits prominently along Temple Street, Chinatown. Upon arrival, we were warmly greeted by Ms Jane Lee and Ms Monica who were hospitable and helpful in recommending some of their best dishes.
First off, we had the Kim Chi Soup with various ingredients ($12+), and was blown away by its rich stew with wholesome vegetables. Every spoonful was smooth, but still slightly crisp, and not overly sour or sweet – it was perfect to our liking.
Then, we had the specially Marinated Chicken with Chili Paste and Rice Cake For 2 ($35+), which came with vegetables of all sorts and colours. The presentation was beautiful until we tossed and cooked it. Alongside were five free-flow side dishes that include delicious handmade kim chi, fried Korean fish cake, spicy seaweed, dried anchovies with spices, and radish – side dishes will vary everyday.
We were taught the traditional way to eat the dish and had to follow suit using our hands. So we picked a fresh lettuce leaf, placed one of each ingredient onto its center, and finished the bed of colourful ingredients with kim chi and chili. Then, we had to consume the whole wrap in one bite – intimidating as it may sound, it was not all that difficult. I figured the trick is not to be over enthusiastic on the fillings so you can eat it comfortably in one bite.
On the whole, the flavours and textures were truly amazing. They were tasteful, spicy, juicy, and crunchy all at the same time. It is also tradition to mix in the rice cake only after slightly more than a quarter of the dish is left. Tender and moist, the rice cake matches well with the different textures in the dish.
However, if you do not take spicy food or chicken, try the specially Marinated Beef with Soy Sauce For 2 ($38+), which has similar ingredients as the Chicken dish, minus the chili and rice cake. The soy sauce is handmade with fruit extract, so you are guaranteed fresh healthy dressing. You may opt for Additional Rice (+$3) like we had, to mix in with the remaining portions of the dish.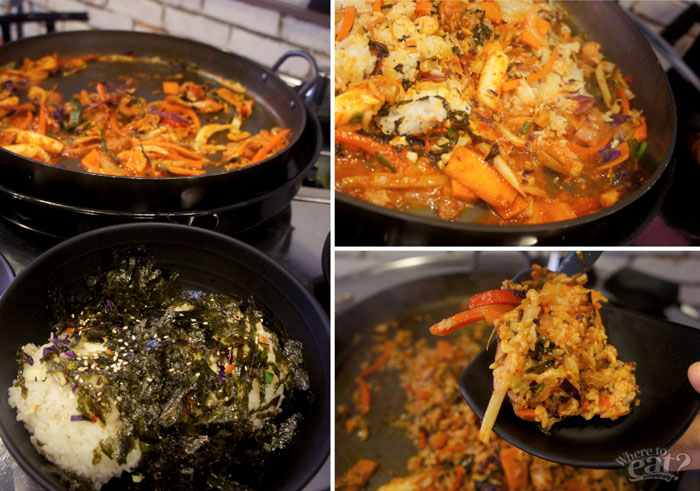 Full from the large servings earlier, we decided to end off with a Kim Chi Pancake ($12+). The pancake made a great closure to our meal as it was light and great tasting. We finally washed down our satiated tummies with Cold Korean Barley Tea ($3) that was bright, slightly nutty and smooth.
I would recommend Gangnam Restaurant Korean BBQ to anyone who will appreciate authenticity, a unique experience, and top notch service. The restaurant holds a maximum seating of 40 pax, and does corporate events with the option to sing along to music videos on YouTube, so its pretty much a complete entertainment package. That said, for those who intend to walk-in, it is most recommended you call the restaurant, just in-case it closes for one of those events.
Gangnam Restaurant Korean BBQ
3 Temple Street
Singapore 058556
T: 8282 1004 (Pal Yi Pal Yi Cheon Sa)
Operating Hours: 6pm – 11pm