Pezzo is so much fun to partake in for all the right reasons! With 17 thick crust pizza selections to choose from, it is easy to be stuck for choices. But Pezzo makes your life simple as it lets you mix up to six flavours in one pizza. Creative pizza names inspired by the tapestry of circus life also adds to the fun, going by bold monikers, such as Big Daddy, Meat Munchers and Hot Chick. Easily available island wide with 15 kiosks plus 6 new kiosks, you can savour an array of tantalising pizzas anywhere you are. Furthermore, Pezzo introduces new flavours every month, so you can always look forward to exciting new tastes!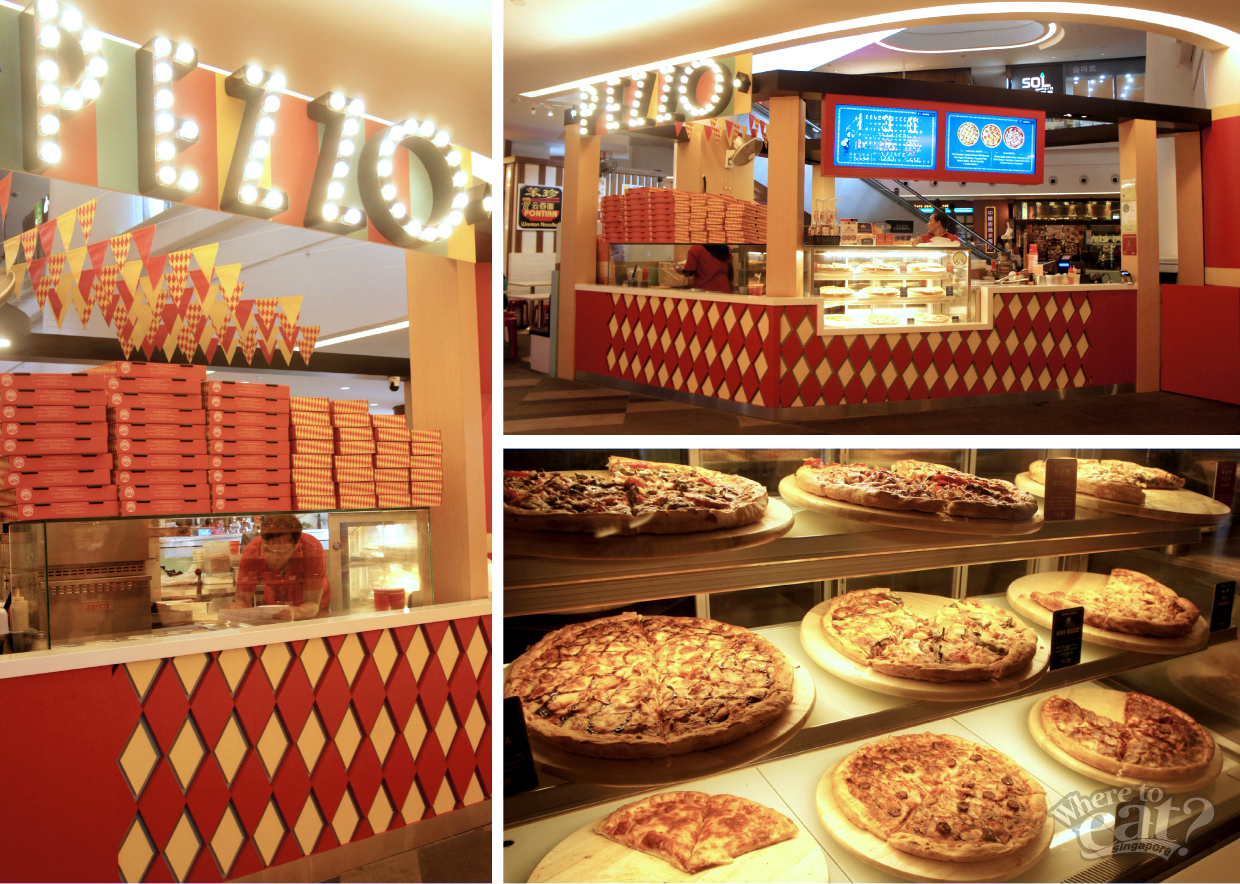 Pezzo is also very value for money, meeting all the criteria of quality, quantity and cost. The thick crust pizzas are filled with generous amounts of ingredients and cut into large slices. Hand kneaded and prepared upon order, you can rest assure the freshest slice of pizza always. The Carnival Series is sold in 1 ($4.50), 3s ($12.90) or 6s ($24.90). Similarly, the Gala Series is sold in 1 ($4.90), 3s ($12.90) or 6s ($24.90).
For something meaty, try Supremo, which is a potpourri of turkey ham, beef salami, turkey bacon, beef pepperoni, onions, green peppers, mushrooms and black olives. Alternatively, if you can't take beef, try Italiano Chicken, which features slices of oregano chicken and onions, topped with cheesy mozarella. For something fruity, try Hola Hawaiian, which is crowned with turkey ham, bacon and lots of fresh, sweet and juicy pineapples.
We particularly liked Big Daddy for its sweet and tantalising BBQ sauce, evenly distributed on top of the minced beef, turkey ham and italian sausage ingredients. There were lots of textures happening in the fillings but the cheesy mozzarella held them well together, plus the thick crust was crisp at the right edges!
Because you can only takeaway your pizzas, Pezzo makes sure to provide you with reheating instructions found on the side of your packaging, in the event that your pizza turns cold by the time you want eat it. But of course Pezzo highly recommends you to eat their pizzas hot to truly savour the best.
However, not all 17 flavours would be available at a single kiosk at once – except for the more popular or best selling ones. But if you plan to host a corporate event or have orders above $100, you can opt for delivery by contacting your nearest kiosk. So much convenience and fun in a pizza kiosk, we don't see any reason for you not to enjoy Pezzo!
Pezzo Outlets: Sentosa (HQ Office), Arcade, Bedok, Bugis, Esplanade, ION, J8, JEM, Lot One, Lucky Plaza, Marine Parade, Rivervale, Star Vista, Thomson, Tiong Bahru, Woodlands Exchange
Opening Hours: 10am – 10pm
Website: http://www.pezzo.com.sg
For Corporate Events and Delivery Orders Above $100 Email: hq@pezzo.com.sg