From the same company behind Kuriya Dining and Ichiban Boshi, SmokeHouse Charcoal BBQ is Singapore's first retail and self-service dine-in Japanese BBQ concept restaurant for avid meat lovers. It boasts a restaurant amid a butchery. You can enjoy barbequing your own food without additional service charge. And without stenching your clothes because SmokeHouse is equipped with retractable exhaust ducts at every table. Superheaded by award-winning Japanese Master Chef Naoki Tsuzuki, SmokeHouse offers a selection of specially imported premium rare cut Japanese wagyu beef, Australian pork, lamb and poultry and products, such as Otsumami (dried fish snack) and the chef's special Yakiniku (BBQ) sauce.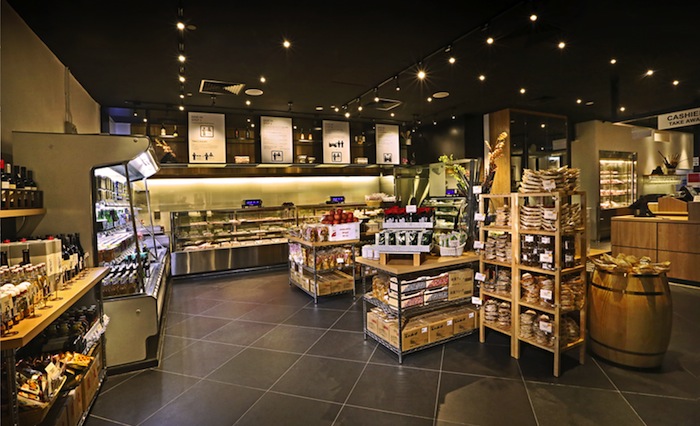 The process of booking your table, selecting your food and paying for them can be complicated if you do not know the steps to dine in. Let us save you from the potential embarrassment of not knowing how to dine at SmokeHouse. Follow these four simple steps and you will completely fit in with the rest of the seemingly experienced SmokeHouse diners.
Paying for your cover charge (Lunch $8/Dinner $10) automatically entitles you to a free flow of salad, soup, rice and condiments. All the colourful vegetables presented to us were fresh, we could have made do with salad for dinner if not for our love for meats.
SmokeHouse meats are extremely tender and tasty. This is because the meats were matured in meat maturing chambers from seven to twenty five days. The meat aging process which turns protein into amino acid brings out the full and natural flavours of the meats. In a sixteen degrees Celcius cold room, chefs cut the meats to perfect chunks. So what you get are fresh meats stored at an ideal temperature and cut in the best grain direction. Plus you only need to pay for what you can consume!
In a hot kitchen, chefs used a charcoal grill to prepare cooked seafoods and meats. Charcoal grilling intensifies all naturally sweet flavours and also removes fat. So you can enjoy a variety of fragrant, crisp and less oily than usual charcoal grilled food.
The perfect drink to go with red meats is always wine. SmokeHouse retails some of the best Japanese wine that are not carried elsewhere in Singapore other than its sister restaurants. The rice wine we had had a smooth body and crisp aftertaste which we thought was well suited for the majority of Asian palate.
Overall, SmokeHouse has impressed us with its truly one of a kind concept of a Charcoal BBQ restaurant in a butchery. If you are a petite eater, you will find particular liking for the payment system because you only pay for what you can consume. For those who prefer to takeaway perfectly cut meats to prepare them at the comfort of your own home, that option is available for you. So convenient, you must experience this new restaurant at Great World City for yourself.
SmokeHouse Charcoal BBQ
Great World City #01-37
1 Kim Seng Promenade
Singapore 237994
Tel: 6235 2185
Operating Hours:
Opens Daily
Lunch 12pm – 3pm
Dinner 6pm – 10.30pm
http://www.smokehouse.com.sg
http://www.facebook.com/smokehouse.sg