Christmas time is near! If you are looking for a fairly quiet restaurant to have dinner with your loved ones or colleagues, be sure to consider Buttercake N' Cream for its tranquil atmosphere and 3 Course Award Winning Christmas Set Menu for Two ($59.90). Featuring sumptuous good ol' fashioned creations from its chefs, you can get to relish in the Chef's Wild Mushroom Soup, Norwegian King Salmon, and not just any log cake, but The enchanting Rainforest Log Cake.
For appetizer, we had fresh Smoked Salmon Salad with mixed leafy greens and cherry tomatoes, drizzled with Japanese sesame dressing. The salad was not just bright in colour but also in taste, which was enough to keep you anticipating for what's next. For drinks, we had refreshing Peach Berries and Minty Apple, which we thought were superb in terms and colour and taste. They tasted almost like non-alcoholic versions of your otherwise regular Mojito drinks.
For main courses, we had an air flown premium Australian Grain Fed Ribeye medium done to our liking. Paired with robust homemade red wine jus, we found the dish to be tender, juicy and tasty. Served on the side were peculiar crispy potato skins covered with melted cheese, and oven baked vegetables.
Specially marinated with homemade barbecue sauce, the Baked Baby Back Ribs were sweet with full and round flavours. We pierced our fork into the meat and were able to remove the meat from the rib bones easily – which signaled that the meat was prepared to perfection. Oven baked vegetables were also served on the side with crisp potato wedges to complete the dish.
If you tend to prefer a more mellow flavour, try the Chef's Roasted Chicken Quarter and herb sausage. Drenched in slightly peppery special sauce, the dish burst with herb flavours that were enjoyable. Served on the side were also oven baked vegetables such as sweet potatoes, peppers and cherry tomatoes, lightly tossed in olive oil and fresh herb.
The highlight of the Christmas Set Menu for Two was truly the Christmas Log Cakes. They were not only visually attractive, but taste really good and not overly sweet or anything. We had The Rainforest Log Cake (Whole $55) which is a chocolate swirl hazelnut mousse cake with crunchy chocolate balls inside, paired with hazelnut ice cream dusted with finely crushed nuts. The combination of smooth and crisp textures with nutty flavours worked well together, creating excitement in every spoonful of cake.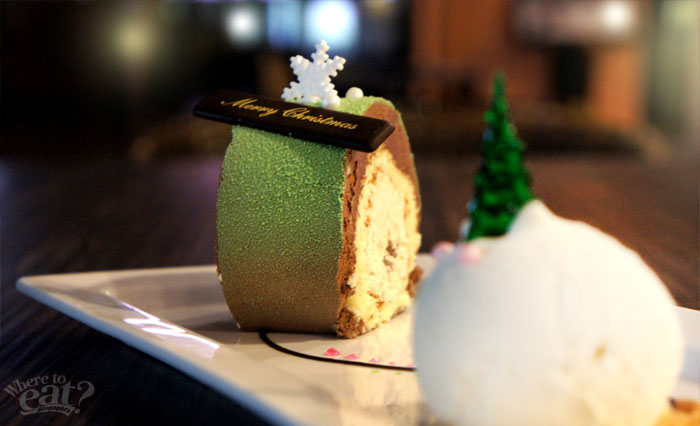 This is it! The Rainbow Log Cake (Whole $55) you all have been waiting to read about.
The Rainbow Log Cake is available in two flavours, namely strawberry short or vanilla cream cheese. We reckon the girls will love this for its alternating layers of colourful sponge cake and frosty whipped cream, topped with fresh assorted berries. To place your orders, email cakesorder@buttercakencream.com or WhatsApp 90104586. Buttercake N' Cream also welcomes corporate enquiries, so enquire away!
For more information about Buttercake N' Cream, visit their Facebook or read our past review here!
Buttercake N' Cream
(A Tasteful Adventure)
106 Clementi Street 12
#01-52 Sunset Way
Singapore 120106
T: 6777 3477