Earlier this week, we had the pleasure of visiting one of Singapore's best hidden food find, Buttercake N' Cream. This magical Western-Italian restaurant opened in 2009 among the tranquil neighbourhood of Sunset Way in Clementi–a perfect contrasting location away from the daily bustles in the cityscape.
As we approached, there were groups of couples and friends seated–a scene you rarely find on a hectic weekday afternoon, but a good sign that the restaurant is ideal to just sit back and unwind.
The restaurant greets you with a cozy interior, dimly lit alfresco space, dark wood furnitures and sparkling colourful decorations like that of a wonderland tea party. We found a comfortable spot at the alfresco space and ordered a glass of Lemon Lime Bitter (SGD$5.50) to share.
The tropical looking drink was delivered to our table with a round cork coaster, which added a subtle but valuable detail to the experience. Lemon Lime Bitter itself was a refreshing fusion of sweet notes and sour concoction with hints of ginger. My companions and I liked its bright profile and found it quite enjoyable.
While we were admiring the space, the Chef came out with two plates of the restaurant's entrée specialties, Chef's Wild Mushroom Soup ($4.50) and Sautéed Mushrooms ($9.90).
We were in awe at the sophistication of the food presentations. The fresh assortment of wild mushrooms in chicken broth and cream soup complete with white truffle oil was not heavy. It had a smooth and creamy texture that was light on the taste-buds which makes it relishable to the last spoon. Served warm atop a trivet with a candle in the base, we had the privilege of sipping into warmish soup till there was nothing left.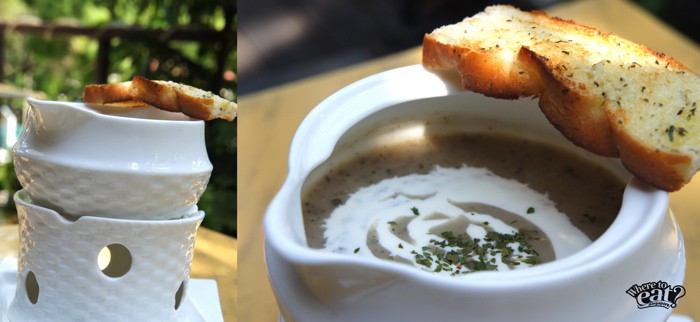 Sprinkled with thyme, the bite-sized sautéed button mushrooms gleams a tinge of white wine, other herbs and butter onions. The rich broth was slightly sourish, but to our preference. To our delight, both entrées came with some of the best focaccia garlic bread we have ever tasted. Not only were they perfectly oven-toasted to crisp, they were also enchantingly soft and infused with herbs to the very final crumbs.
Having warmed our appetites up, the Chef had us taste three of the restaurant's other main course specialties, Cod Fillet ($16.00), Beef Tenderloin ($49.90 for 2 pax) and Seafood Aglio Olio ($13.90).
The pan-seared Cod Fillet dressed with thyme sauce was savoury. And full of Asian-Indian spices that enhances the natural taste of the cod fish. Served with homemade fries that are well seasoned and not oily, this course is perfect for the health conscious.
Specially seasoned, marinated, and complete with Japanese mushroom sauce, the Beef Tenderloin perfectly complimented our entrées and may have even outshone them. Completed with sautéed vegetables and a large portebello mushroom, this course was definitely our favourite rave for the day.
The Seafood Aglio Olio was nothing like your regular aglio. If you have a liking of asian spices in western-italian standard spaghetti, this course is a must-try. The unique mixture of tastes and chunky juicy portions of scallops, shrimps and clams were amazing.
Finally, we were served one of their best selling dessert, Warm Chocolate Pudding ($11.00). It came in the form of a souffle, served with vanilla bean sauce and a generous scoop of Buttercake N' Cream homemade vanilla ice cream. We distributed the smooth vanilla sauce over the rich chocolatey pudding and was pleasantly surprised at how the flavours don't overpower each other. This dessert was the highlight of the session as it was simply satisfying–a wonderful closure to a meal.
Whether you are a fan of Western-Italian cuisine or not, this is a hidden gem you must find for it has fantastic homemade food and desserts at reasonable prices. Buttercake N' Cream is famous among couples, families and co-workers for their entrées, pastas, award winning (Cozy Cot Women's Choice Awards 2012) 3 Course Yummy Set Lunch ($13.90), Magical Set Lunch ($19.90) and Set Dinners ($39.90/$49.90(2)).
In order to tease your taste buds and excitement, Buttercake N' Cream keeps things fresh by introducing new weekly selection of cakes and bi-monthly change in their set lunch and dinner menus. Keep a lookout for more tasteful adventure that lies ahead.
106 Clementi Street 12
#01-52 Sunset Way
Singapore 120106
T: 6777 3477
Opening hours: 12pm – 11pm (Daily)