Maybe not for you, but certainly for us.
Well, before we had a taste of Caffe Pralet's signature Tom Yum Pasta, Chef Timothy did kindly reminded us that it would be a little on the spicy side. But we didn't decipher much of it, perhaps because of the spicy-lovin' soul and pride in us.
When it arrived, it looked kind enough. Crystal prawns, squid rings, bite-sized mushrooms and chopped sugar peas in a pool of creamy-looking sauce, topped with large kaffir leaves, sliced chilli and half a lime.
We should have taken his warning seriously.
The young chef, who took over the kitchen/business in 2015 from his mother Judy Koh, explained that the spiciness level was kept the way it is despite comments similar to ours. But that didn't took away what it had. One minute we were quietly sipping cool water, but the next our forks were swirling the pasta, dipping it further into the fiery sauce.
Interestingly, the very humble chopped sugar peas were a great addition. Not too cooked that it would mash in your mouth, and managed to soak in a tiny bit of sauce in each sweet crunchiness.
As our tongues were memorizing the picante house-made tom yum paste, the welcoming whiff of dried shrimps softly approached us.
There it was, Chef Timothy's exploration of culinary possibilities and the end result of Hei Bi (dried shrimps), belachan and finely chopped beans attached to smooth, well-cooked pasta.
Detached from the hipster vibe of Tiong Bahru, Caffe Pralet is currently rebranding itself after more than a decade in the neighbourhood. The refurbished cafe, seated just right next to their culinary school, is modest and spacious and aims to pay more attention to the menu.
Therefore the rich, salty Southeast-Asian flavours stir-fried with ang moh pasta, which wouldn't come across as too blatant of a combination.
Together with its rebranding project, the cafe plans to renew its menu and tries to introduce a new dish once every month thereafter.
The next on the experimental menu is Satay Chicken Chop – a thin but large slab of tender chicken in nutty satay sauce and potato rosti on the side.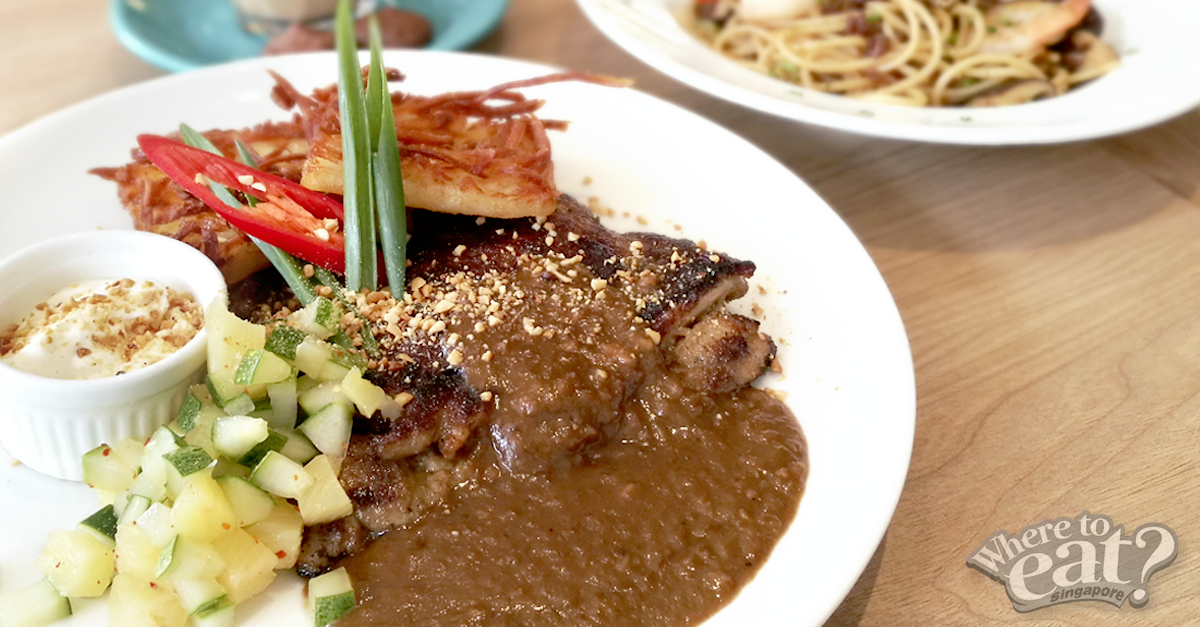 Not sure whether it's a secret, but Chef Timothy told us he made the sauce with peanut butter. Surprisingly, it didn't render the sauce overly sweet as expected, but of course the chef's special concoction was largely factored into the end result. We thought it was a right move, because we tried to scrape the sauce off the plate clean.
Their cakes and coffee come in handy after you've had your fill, or when you need an afternoon break with a cake and drink for an $8 high tea set.
This August, Caffe Pralet is currently running a $10 for 10 Caffe Pralet Mini Cakes (with flavours like Lychee Martini, Irish Baileys, Signature Pralet, Signature Cheesecake, Red Velvet, Green Tea, Mango, Strawberry Mousse, Chocolate Banana & Gula Melaka) promotion.
Also, they are baking special mooncakes for the festive occasion. Inspired by the fruits of the tropics and traditional flavours, Caffe Pralet highlights this annual affair with quality mooncakes. Featuring premium ingredients and decadent flavours, both the Classic Baked Collection and Snowskin Collection (including flavours such as Butterscotch, Lychee Rose & Mango Basil) is one not to be missed.
Caffe Pralet by Creative Culinaire
17 Eng Hoon Street
#01-04
Singapore 169767
Tel: 62235595
Opening Hours:
Mon – Sat: 11am – 9pm
Sun: 11am – 6pm
CaffePralet