Read our First Review for Kimchi Korean Restaurant Here!
Second time in a month that we are back at Kimchi Korean Restaurant in Suntec City Convention Mall. But first time we are experiencing the real taste of Andong, South Korea here. The head chef from Andong has developed a handful of new dishes with special Andong chicken sauce, so you can expect them cooked to true authentic Korean style. Despite the restaurant being relatively new, it has over decades of combined experiences from the chefs and owners. The head chef was formerly from Ritz Carlton South Korea, while the manager was formerly from Ritz Carlton Singapore. Impressive, right?
We started our meal with healthy Mixed Green Salad ($8). This one comes with freshly chopped Ginseng and is generously drizzled with bright tangy Korean yuzu dressing. Every mouthful of green had citrusy notes and occasional crunch which was very appetising.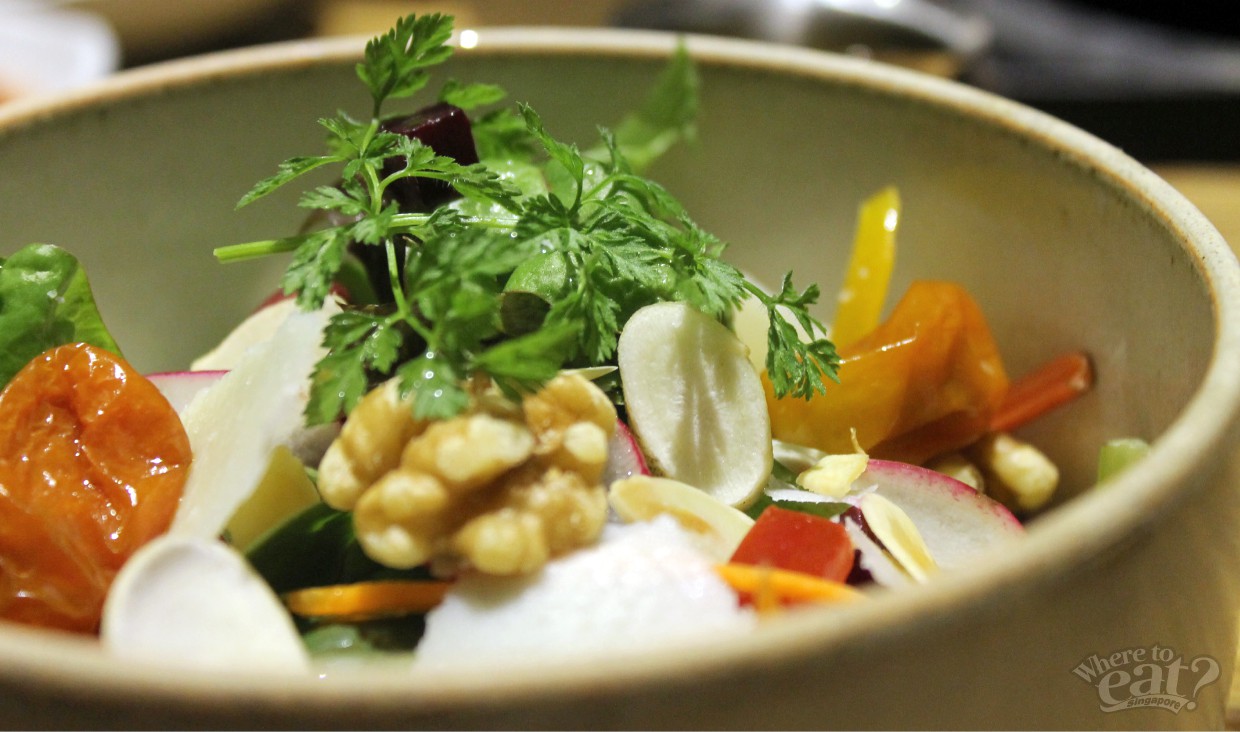 Kimchi creates some of the tastiest Dolsot dishes. This time we had their new Chicken Dolsot ($15) noodle prepared to perfect soft silkiness that was light on the stomach. The amount of marination to taste was just right, it brought out the natural sweetness of the chicken but was not saccharine. If you prefer rice, try the Chicken Bulgogi ($15), or Andong Jjim Dak, filled with egg atop a bed of rice. We poured in spicy soy sauce to taste, and was pleased with the slightly sweet and tender braised chicken with root vegetables. Lots of flavours and textures were present but they all blended well together, none overpowering each other.
You can also barbecue your own meats, or have the staff barbecue them for you. We had their new menu of Hanging Tenders, Pork Collar and not forgetting their special Andong Chicken BBQ. Every slice of meat was well marinated with sweet sauce to enhance each their own natural taste. Andong Chicken BBQ in particular was tender and succulent with hints of pepper that was delectable, we finished the chicken meat really quickly.
Kimchi recently launched its afternoon tea sets. They come with their respective dessert dish, plus choice of tea from five flavours (strawberry and kiwi, flowery melon, apricot and peach, earl grey, moroccan mint), and choice of ice cream from four flavours (yuzu, green tea, black sesame, red bean). Drink wise, we highly recommend you to try the Honeydew Melon Tea. Just one sip was enough to wow us. It had the smoothest, roundest, most pleasantly sweet honeydew melon taste and scent that would linger for a while. Haven't tasted any tea quite like this before!
Of the two sets, we liked the rich and flavourful Kimchi Afternoon Tea SET A ($16.80) with Famous Busan Hodduk better. The traditional sweet baked dessert with cinnamon and sugar glaze was soft, fluffy and slightly chewy. For something light and fruity, try the Kimchi Afternoon Tea SET B ($16.80) with Four Season Mochi. The mochi were not too sweet or heavy, so you can indulge a little more without feeling guilty.
Kimchi Korean Restaurant is truly the place if you are looking for authenticity, quality, presentation and poshness at super affordable prices. We're anticipating a third and fourth visit with friends again because we just can't get enough here!
Read our First Review for Kimchi Korean Restaurant Here!
Kimchi Korean Restaurant
3 Temasek Boulevard #02-387
Suntec City Convention Tower
Singapore 038983
T: 6337 7811
Operating Hours: 10am – 10pm (Daily)
Visit Kimchi Korean Restaurant on Facebook