Sushi Tei has kicked off its Spring celebration "Spring is Springing" with the best Kagoshima Pork, freshly imported from Kagoshima Prefecture by Sushi Tei. We were invited to taste their new comprehensive Spring menu of special Kagoshima Pork creations, as well as other specialties, and pleased that the Japanese fare proved authentic, fresh and consistent with our past visits.
We started off with appetizers worth savouring during the promotion. Their signature Sayori Sashimi (S $12/M $15), only available during Spring, is a sleek silver fish with distinctive long and protruding lower jaw, also known as the Japanese halfbeak or needlefish. Due to its delicate texture, it is best served sashimi style with light shoyu dip to accentuate its sweetness. We thought it had a strong fishy taste, and found the ginger shavings in shoyu essential to balance out the colourful flavours and textures the fish brings.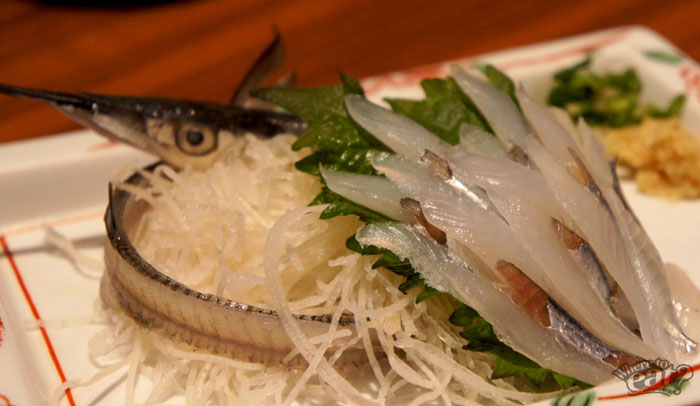 Then we had the Sashimi Moriawase (Platter) that consists of chunky, fresh salmon and yellowtail slices, and a whole Aji fish. The slices were in thick cuts, so we were easily able to relish the sweetness of the salmon and yellowtail. But of course we left the raw Aji head and tail untouched, and had the staff retrieve them to fry and serve as a new cooked dish.
We also had the Kani Gyoza ($6), or crabmeat dumplings, that was fleshy, sweet, slightly salty, and served with vinegar and chili oil to dip. The Amaebi Karaage ($6), or deep fried shrimps with shells intact, was crispy to bite. If you are a sake drinker, these two dishes are must haves as the flavours blend well together.
Moving on to the mains, we had their signature Kagoshima Miso Yaki Pork ($11.50). The pork is sought after during Spring for its sweet flavour, rich fragrance and delicate texture. Marinated in miso sauce to perfection and grilled with the right amount of fat for a buttery finish, we thought the flavours complemented the pork perfectly. It also had an outer layer that was crispy, with tender lean meat inside that was moist and brilliant. Similarly, if you are a sake drinker, this is one main dish you must have as the flavours will blend pretty good.
If you brought kids and they prefer to have something slightly more westernized, try the Kagoshima Pork Hamburger ($8). Each pork patty is densely packed with finely ground and moist Kagoshima pork loin, then lightly grilled on a hot plate to serve with traditional Okonomiyaki sauce. Complete with colorful vegetables and warm chewy rice, we thought the dish was so worth it in every way. However, you may want to note that there is a hint of sake in it, just enough to keep the dish bright and appetizing throughout.
Alternatively, you can also try the Kagoshima Tonkatsu ($12), or deep fried pork cutlet, that was warm, crisp and juicy – even the crumbs were a hit.
For soup or hotpot lovers, try the Kagoshima Pork Nabe ($15) that has four soup base options; shoyu, miso, spicy or sukiyaki soup. We had the spicy base one to taste and found it not too overpowering, so for those who can't take the heat, the spicy base option may be to your liking. Additionally, the soup dish comes with mixed vegetables such as radish, carrots, leek, enoki mushrooms, beancurd and glass noodles, so it may also be ideal for ladies who are seeking a light meal.
Lastly, we had the Tako & Shirasu Yakiudon ($13.50), or fried udon, that featured generous portions of cabbage, capsicum, bean sprouts, baby sardines and pieces of octopus tako, stir-fried with Yakisoba sauce for added sweetness. Every spoonful of noodle had ingredients in them, it is as great as a meal on its own. You may opt for ramen noodles if you prefer.
We finally hit the desserts and were delighted to learn that, unlike other Japanese restaurants, Sushi Tei prides itself in delivering quality desserts directly imported from Japan.
Available only on their spring menu, their signature Salt & Red Bean Ice Cream ($3.40) left an impression on us for its unique transformation in taste, from salty to sweet. However, if you are less of a potong ice cream person and more of a waffle ice cream person, try the Matcha Waffle Ice Cream ($3.80) that was crisp on the outside and fluffy on the inside.
For something less complicated but still delicious, try the Nama Chocolate Ice Cream or Matcha Nama Chocolate Ice Cream, available all year round. The ice cream is served in smooth bite-sized cylinder-shaped pieces, so it sits perfectly on the bed of your tongue and melts instantaneously in your mouth. We particularly loved the matcha flavour as it was distinct and very rich in taste.
Overall, this is one Spring promotion you don't want to miss. The prices are reasonable and food is of absolute quality, given that they freshly import their products from Japan twice a week. So, there is practically no reason for you not to find comfort in some of these dishes. Furthermore, each of its restaurant dons its own classy, modish look, so you will always be in for a visual and actual feast regardless of which outlet you visit.
Sushi Tei Singapore
www.sushitei.com