Sick of queueing at crowded coffee shops to eat sub-standard local food and drink sub-standard local coffee? Coffee Hive serves decadent Singapore-style fusion food and tasty traditional-style coffee at affordable prices, and in a homely contemporary cafe setting. Coffee Hive's first outlet at Robinsons Road was set up in 2012 by four enterprising young men, who wanted to provide a cosy spot with affordable local delicacies for common men working around in the area. Today, even its newest outlet at Novena Square 2 has office workers patronise during lunch hour. Having been the choice place for their friends and family to la-kopi (Hokkien for "get together for coffee), the four buddies also hopes that you can enjoy a unique kind of companionship at the humble spot with fantastic food and drinks.
Being particular coffee drinkers, the four buddies were careful with their choice of coffee blend for their drinks selection. The Kopi (Hot $1.30/Cold $1.80) was aromatic even from a distance, had a strong body, but very well balanced – easily one of the tastiest local coffee we ever had. You might even consider to have future breakfasts here.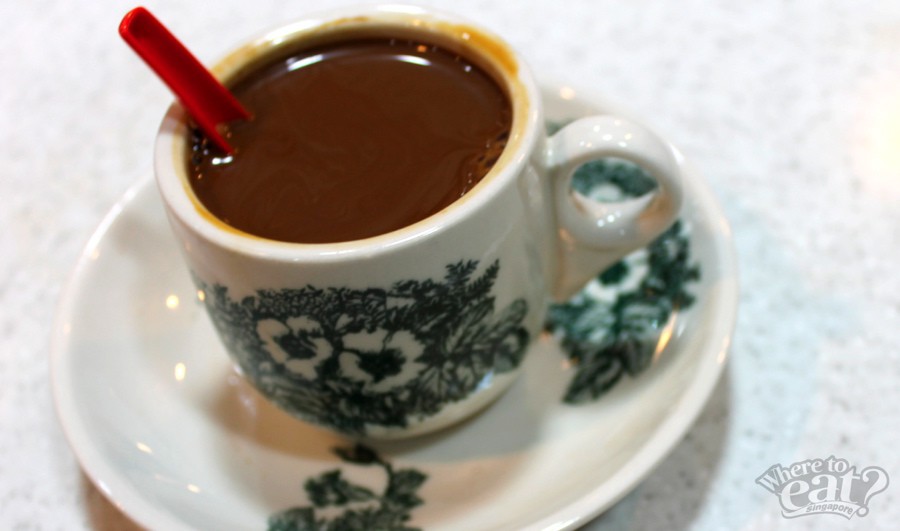 Come with your colleagues and share a generous pot of Claypot Tofu ($5.80). The pot brims with ingredients like beans, egg, tofu, sliced fish and assorted seafood, ideal for two people to share. Its gravy alone is flavourful and goes well with even just a bowl of fragrant rice.
Chicken Curry ($5.80) was the main highlight of our meal. We highly recommend you to try the special recipe created by one of the four owner's Mother-in-Law. It's so addictive, you just want to keep going back for more. Eat it with a choice of warm baguette, fragrant rice or springy noodles – but of course we had ours with baguette. The curry had just the right amount of coconut milk to add body and enhance the overall flavor of special spices used, with chunky chicken meat and soft boiled potato ingredients. It really had its own uniqueness.
Fried Beef Hor Fun ($5.80) boasts a generous serving of big and tender beef slices, well tossed with smooth hor fun in rich gravy sauce. It's a simple dish that could have had slightly more wok-hay to it, but still pleasurable.
Gong Bao Ji Ding Rice ($5.80) with cashew nuts is a classic Chinese dish that originates from Sichuan province in China. Although the dish overflows with spicy dried chilli peppers, the spiciness manages to not overpower the taste of the marinated chicken.
If Chinese is still not your cup of tea, try Western Rosemary Chicken Rice ($6.80) served with fresh coleslaw. It's well marinated with fragrant rosemary and special sauces, adorned with creamy mushroom sauce, while still maintaining a light and crisp exterior. Every slice and bite into the tender, juicy meat was relishable, we would recommend this to anyone looking for a Singapore-style Western food.
For more information, visit www.thecoffeehive.com
Coffee Hive (Novena)
Novena Square 2
10 Sinaran Drive #B1-88
Singapore 307506
Opening Hours: 7am – 10pm Daily
Coffee Hive (Robinson)
63 Robinson Road
Afro Asia Building #01-02
(in MPH Bookstore)
Singapore 068894
Opening Hours:
7am – 5pm Weekdays Only
Closed on PH
Coffee Hive (Havelock)
20 Havelock Road
Central Square Village Residences #01-15
Singapore 059765
Opening Hours:
7am – 6pm Weekdays Only
Closed on PH
Coffee Hive (Science Centre)
15 Science Centre Road
Annexe Courtyard
Singapore 609081
Opening Hours:
10am – 6pm Daily