In celebration of Chinese culture and food, Crystal Jade at Vivocity aims to please all with additions to its already comprehensive menu. For lunch, you could easily go with their hand-pulled noodles freshly made by dedicated chefs swirling and twirling the dough behind the counter of the open kitchen, or indulge in their special Xiao Long Bao featuring two bite flavor explosion.
In the restaurant, there's a nonchalant air of casual simplicity, its colour mostly white and pale brown. Despite the actual size of the venue, there's a passably spacious feel to it. The key to this place has got to be their food: classic and traditional Northern Chinese food that spells homey, rich and vibrant.
Lifting a dainty little darling tentatively with chopsticks, then letting it sit comfortably into the spoon – we are pretty surprised that until now the delicate pouch still hasn't gave way. Taking a tiny nimble on its supple yet thin dough, and it unleashes a tiny gush of broth onto the spoon, which we hastily slurp to reduce wastage. Pick up a few finely sliced ginger, a light dapple of black vinegar and place it on top of the morsel and it's ready to be delivered into your mouth. The relish of juicy meat accompanied by rich soup and a trace of salted egg yolk definitely seals the deal.
Introduced to diners as part of the SG50 menu, this particular dish managed to permanently stay on the menu from now on because of its popularity. We can see why: with each mouthful, there's the familiar whiff as we chomp down onto it, and that decisive act brings forth a full burst of luscious and nostalgic flavours.
The above two dumplings (Steamed Salted Egg Yolk Xiao Long Bao and Steamed Chilli Crab Xiao Long Bao) are part of the very appealing Steamed Assorted Flavours Xiao Long Bao, a sampler set that comprises other novel innovations; Steamed Ginseng Xiao Long Bao, Steamed Chili Crab Xiao Long Bao and Steamed Vegetable Xiao Long Bao.
Before venturing further into the rest of the doughy food on the menu, the Deep-fried White Bait in Wu Xi Style would successfully hook your appetite. Crispy (extremely) white baits are tossed with fried garlic, salt and pepper together with a layer of caramelized saccharine coating.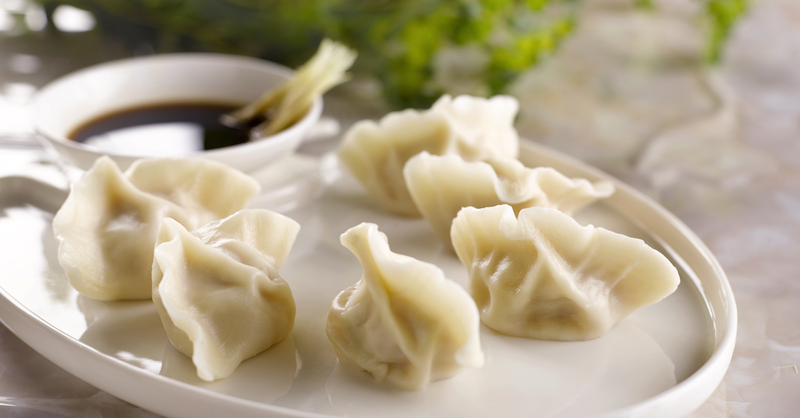 It's hard to stop at one: that's our conclusion for Poached Watercress Dumpling. As plain as it sounds, you'd be amazed (like how we did) at the superb just right thickness and texture of dough skin completed with the deliciousness of the meat and watercress filling.
Crystal Jade brought the glutinous rice flour cake especially from Shanghai, and truth to be told, we'd be so willing to chew on the rice flour cake all day long if our stomach had no end. Featuring a compact texture that seals the subtle, fragrant taste of sticky rice, paired with shredded pork, preserved vegetable and pork broth, this dish is not to be missed.
Made from scratch by the masters behind the counter of the open kitchen, the noodles from Crystal Jade is stretchy, silky but chews like a foam mattress. Accompanying the noodles are slab of fatty meat cloaked in a mellow sticky-sweet dark sauce, and the whole dish would be perfect for a quick lunch.
First marinated for two days then steamed for two hours and deep-fried to lock in all its succulent juices, the duck meat is best eaten with its homemade lotus buns and special sauce. The restaurant only has ten servings of Deep-fried Duck each day, so booking in advance is recommended.
Hand beaten pork balls are skillfully cooked to achieve an incredibly smooth and moist texture, and braised in a claypot for an enhanced smoky fragrance. The thick and melodious sauce goes well with rice, so you could ask for one (or more) if you do not want to waste a single drop of it.
Other than that, Crystal Jade serves several traditional Chinese dessert such as one of Shanghai's oldest dessert, Glutinous Rice Ball in Fermented Rice Wine. Every rice balls are handmade (of course) by their committed masters and results in a delightfully chewy textural, then served in a fermented rice wine sweet broth. First-timers might shun from the slightly sour taste of the broth, but after spoonfuls, you'd probably be in love with it.
Crystal Jade Jiangnan
1 Harbourfront Walk, #01-52, VivoCity
Tel: 6221 1830
Opening Hours:
Mon to Fri: 11:30am – 10pm
Sat to Sun & PH: 11am – 10pm
Website: http://www.crystaljade.com
Facebook: http://www.facebook.com/crystaljade.sg