When you pride yourself on using 'thick, scrumptious slices of Mangalitza pork belly' for your choice of meat and you even name your restaurant after its 8 Colours Set, that says alot.

The Central is a slightly confusing area to navigate unless you're really familiar with the place. Otherwise, just follow the lingering smell of barbecued meat and you should find yourself anticipating an inviting meal in E!GHT Korean BBQ shortly. The color palette of the USA-borrowed korean barbecue restaurant leans towards a relaxed, industrialistic interior, with concrete and exposed red bricks gracing the walls. It's less about the interior and more of a focused approach towards the food.

When it comes to meat, things need to get serious. Premium Mangalitza pork belly anchored the menu of E!GHT, and such pork are definitely not just any typical ones. With double the marbling of regular pork and often referred as 'Kobe Beef' of pork, no wonder they have to serve their meat with such imperiousness. Rolled neatly and placed onto a wooden tray, there are individual indications to their respective flavors going accordingly from the lightest to the heaviest flavors, which is also supposed to be the proper order when patrons are consuming them. In this case, the flavors include Original, Garlic, Herb, Plum, Yucha, Blackberry, Honey Ginger, Kalbi, and Wine. Others such as Ginseng, Curry, Miso Paste and Red Pepper Paste are also available. If pork is not your thing, they also do have USDA Prime Beef and Kagoshima Wagyu on the menu. Korean food can never do without banchan. E!GHT changes their requisite side dishes regularly, and you really shouldn't pass up on them because one or two (or all of them) are like unexpected gifts you'd like to receive on a moody day.

E!GHT uses specially-designed crockeries to grill their meat, where they sit at a slightly tilted angle to allow excess oil from the meat to flow down to the kimchi and sprouts for a touch of pork lard when you taste them. Clambering over how to start cooking your food? No worries, lucky for you they have staff who are excellent in their barbecue skills and can help you grill your food to an expert level.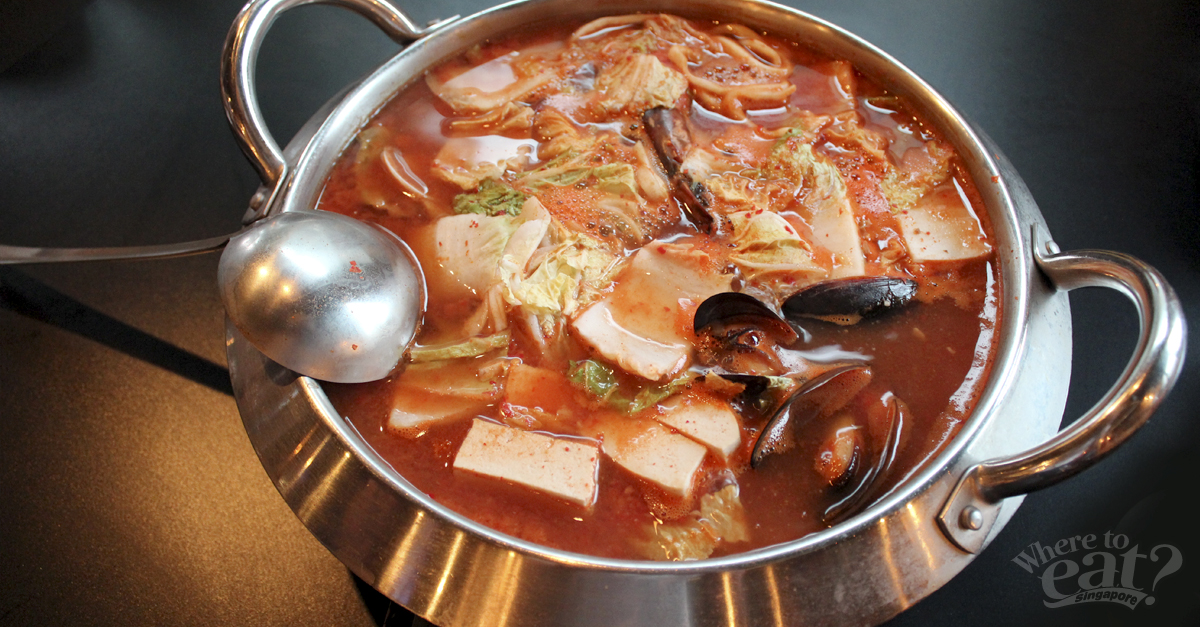 On top of the banchan, kimchi and sprouts that comes with every dinner set ordered, they also serve you a Seafood Bean Paste Stew (other choices includes Sardine Kimchi Stew, Seafood Soft Tofu Stew, etc.) If you're craving for something cleaner and a little less meaty in between your meats, the stew is a good choice to reach out for.

Highly recommended by E!GHT, Yucha Makgeolli is a homemade beverage made with organic Makgeolli slushed with Korean citron. Light and foamy with a tinge of bitterness, no doubt this is perfect for washing down the greasiness before digging into the second round of meats.

The 8 Colors Set should be able to feed 3 normal males or 4 females, but if you're still feeling hungry, E!GHT do have something else on their menu that would help to fill you up. Topped with bonito flakes, mozzarella cheese, egg and Mangalitza bits, each crispy yet tender bite of the Kimcheese Fried Rice delivers a distinctiveness to it.

Raving all around town, bingsu is now associated with Korean food that it is no surprise for E!GHT to introduce their Bibimbap Bingsu to diners as their after-meal dessert. Served in a manner that resembles Korean bibimbap, it is made up of 8 different condiments such as brownies, peanuts, grapes, red bean, etc. Mix it up or eat it as it is; just don't miss out on an instagram-worthy bingsu before you dig in.
Overall, E!GHT Korean BBQ is a spacious and comfortable restaurant to conduct a fuss-free dinner with a bunch of friends or with your family. And if you're lucky enough to be out on a cooling night, you can opt to dine at the open area that oversees the never-sleeping Clarke Quay, accentuated with distant screams coming from the bungy jumpers.
E!ght Korean BBQ
6 Eu Tong Sen Street #02-79/90 The Central
Singapore 059817
Tel: 8692 1188
Opening Hours:
Lunch: 11:30am – 2:30pm (Last order 2pm)
Dinner: 5:30pm – 11pm (Last order 10pm)
Email : questions@8koreanbbq.com
Website: http://8koreanbbq.com/
Facebook: https://www.facebook.com/8KoreanBbq