In the enormity of Singapore's busiest street, there's no lack of Cantonese cuisine. Mitzo labored in creating a contemporary Cantonese menu, with innovative cocktails in a modern yet intimate dining environment. To keep its Cantonese roots despite its Western groundwork, the name itself is in fact a clever transliteration of honey date in Cantonese. Not to forget the carefully sourced ingredients and quality yet traditional production of their dishes.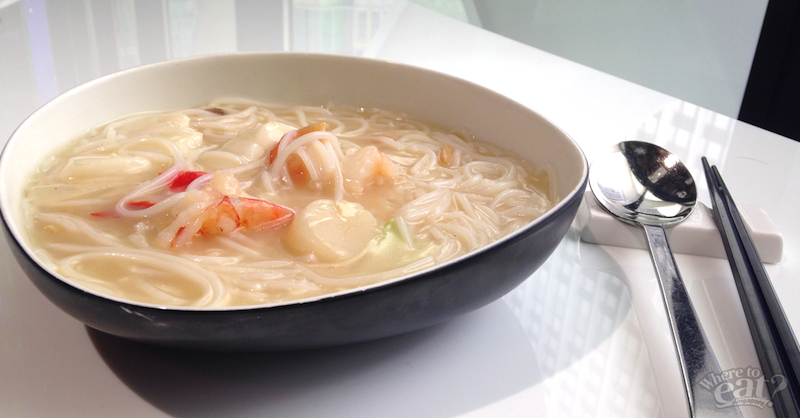 The ingredients are fairly standard, just like the name suggest. Just like any other Cantonese dish, the highlight of this soup dish falls on its broth, which is made entirely and purely from fresh ingredients that would subtly remind you of yu tou mi fen.
The prawns are encompassed in a smooth batter and then fried before a smooth lemon sauce is drizzled atop. The tinge of zest from the sauce helps to sooth the greasy nature of this particular dish, which can then be delivered to your taste buds one after another without any problem.
Chef Nicky Ng execute double-boiling for their soups, which is a long-established technique in Cantonese cooking that allows the essence of the ingredients to fall back right into the soup, resulting in a light and sweet taste.
The simplest dish can divulge taste discrepancies, if any. As simple as it is, poached spinach in three types of eggs requires a certain level of expertise to achieve its balanced taste and smooth texture. Cantonese food lovers are sure to be satisfied enough in regards to this dish.
When Singapore started shifting its attention to truffle, restaurants, fast food outlets, cafes etc, began the insane competition of creating the most impressive truffle-flavored dish. Mitzo joined in the fun of this trend by incorporating truffle to roasted duck.
Sitting on the top of the classic-Cantonese-roast-meats list, Mitzo reinvents BBQ roast pork into their own recipe where the grilled chunky meats are glazed with a layer of caramelised sugar.
The star of Mitzo Chilled Avocado Milk Shake served with Fried Sesame Dumpling happened to be the dumpling – bite down into the soft yet firm dough, and expect a tiny burst of silky filling with a hint of alcohol. Complete the taste journey with a sip of creamy avocado milk mixed with complemented vanilla ice cream.
In case of midnight hunger pangs, stop by Mitzo for their supper menu. Plus, you get booze to go with your food. In fact, when night falls, Mitzo blurs the lines between restaurant, cocktail bar and bar. So other than food, patrons can expect a fair bit of technical flair in their drinks with offers such as Sleek Stiletto – a polished concoction of Diplomatico Rum, mixed with a homemade pineapple, strawberry and vinegar shrub.
If you need a stylish and practical space for corporate functions or private events, be glad to know that Mitzo's salon can accommodate 90 people including a small stage. For a more intimate event, perhaps their private dining room are more to your liking, which seats 26 people. Lunch and dinner are available, whichever suits your needs, just need to know that reservation is required.
Mitzo Restaurant & Bar
270 Orchard Road
L4, Grand Park Orchard
Singapore 238857
Tel: 6603 8855
Mon to Thur: 12pm – 2.30pm, 6.30pm – 12am (last order)
Fri to Sun, Public Holiday and Eve of Public Holidays: 12pm – 2.30pm, 6.30pm – 1am last order
Website: http://www.mitzo.sg/
Facebook: http://www.facebook.com/mitzo.sg