TAO Seafood Asia is an independent Chinese seafood restaurant owned and managed by Adrian Lee, son of former chef at Thai Village. The classic yet contemporary restaurant derived its name from legendary food-loving Chinese mythical creature 饕餮, and 饕聚 which means the gathering of gourmets in Mandarin. It is located in the CBD at Asia Square Tower and directly below a Western-style hotel on the 32nd and 33rd floor, with 108 seating capacity and 2 VIP rooms that require no minimum spending as of now. Perfect location for office workers, expatriates and tourists to dine when transversing the CBD, or families and friends gathering over the weekend who want to move away from the Orchard crowd.
Starting off, we had Crispy Fish Skin with Salted Egg Sauce ($10) deep fried and pan tossed to crisp and juicy perfection. We also had Crispy Enoki Mushroom ($8) deep fried to fluffy and moist perfection. Despite their perfection already, you need to dip them in TAO special homemade Thai-style green chilli sauce for heightened flavours. Hands down one of the best green chilli sauce we ever had with an excellent balance of sweet, salty, sour and spicy tastes. We easily had three plates of green chilli throughout our dinner – it was that good.
TAO is one of few Chinese restaurants that serve real Shark's Fin Soup. Due the controversies of endangering sharks for their fins, the restaurant uses only Blue shark from the Spanish seas which is in abundance and not endangered. However, if you would still steer clear of shark's fin, try TAO Specialty Seafood Soup with Fish Maw, Crab Meat and Scallop. The smooth gelatinous soup is rich in fresh seafood taste sure to leave you satisfied.
Originally a Thai Village specialty with recipe derived from Tung Hoon Crab, the homely Pot-roasted Cod ($38) stashes seasoned and cooked whole garlic, gingery sauce, coriander root, unique TAO Seafood Asia essence and fatty pork belly at its base. By far one of the best versions of hot pot codfish we ever had. TAO even takes care to retain the full flavours of the ingredients when cooking, by serving guests the dish in the same pot used for cooking. Doing so eliminates excess oil too, so it makes up for the rustic presentation which I must say is still quite impressive.
Pot-roasted Chicken Caramelised in White Wine ($20) was also a Thai Village specialty. The dish uses chicken drumstick only because of its thick succulent meat. Similarly prepared in the pot that they serve to you, the chicken is thoroughly infused with Hakka white wine enhancing all natural sweetness. The dish also uses natural sugar from rice for caramelisation, resulting in a densely smooth sauce. Super tasty, we finished our pot-roasted dishes really quickly.
Don't underestimate the spiciness of Singapore White Pepper Crab ($6/100g) based on its harmless looking exterior. While the spice is mellow enough not to mask the natural sweetness of crab meat and creamy roe, it is also strong enough to leave you gasping for a cool drink. Being less ambitious on the white pepper sauce would make your crab experience a pleasant one.
Fill the rest of your satisfied tummy with tasty and wholesome TAO Seafood Asia Stewed Rice Vermicelli ($24). The dish boasts chunky tasty ingredients like fish, juicy prawns, crab meat, squid and vegetables in rich gravy with special traditional essence that aid in creating a round taste.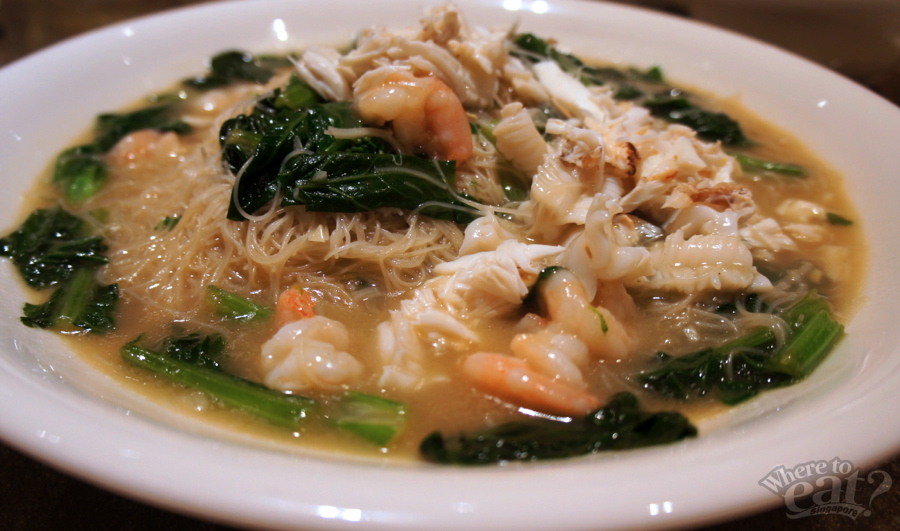 For dessert, if you're spoilt for choices or just feeling adventurous, try Trio Surprise ($12). It is a sampling portion of three desserts prepared by the Chef that will surprise and delight your senses. Ours was a refreshing aloe vera jelly, light mango cake with fresh fruit cubes, and rich chocolate mousse with a hard-shelled chocolate ball for extra crunch.
Alternatively, you can choose from a selection of traditional Chinese desserts that have each their own health, beauty and medicinal benefits. It includes light and refreshing Snow Fungus with Red Dates and Ginko Nuts ($8), nourishing Sea Coconut with Longans ($6), bittersweet Guilin Herbal Jelly ($6) with honey on the side, sweet creamy Teochew Traditional Yam Paste with Ginko Nuts ($6) and rich coconut milk on the side, and sweet pulpy Mango Sago.
TAO Seafood Asia
12 Marina View
Asia Square Tower 2 #02-10
Singapore 018961
Tel: 6844 9969
Opening Hours:
11.30am – 2.30pm (Mon – Sat)
4pm – 10pm (Mon – Sat)
Closed on Sun and PH
Facebook: www.facebook.com/TAOSeafoodAsia
Website: www.taoseafoodasia.com