Helmed by master chef Mr. Julian Tam Kwok Fai, Wo Peng Restaurant is well-known for being the founder of Singapore's Poon Choy, so diners can expect a fair bit of technical flair in their dishes. Of course, the restaurant serves a nice smattering of clean Cantonese dishes using mostly premium ingredients that retains the familiar taste that we are used to.
Befitting the practice of Cantonese cuisine, casseroling the dish draws out the quintessential sweetness and ultimacy of flavour from the 13 premium ingredients – abalone, conpoy, pattern shitake, fresh prawn, sea cucumber, fish maw, dried oyster, black moss, broccoli, pig tender, roasted pork, pig skin, tianjin cabbage – and making them moist, tender, and seasoned throughout. Wo Peng offers special price for dine in S$38.00++ per person with a minimum of 2 persons. (Usual price S$56.00++ for one person).
Better to be safe than sorry? Wo Peng regards the recent incidents with seriousness therefore the vegetarian salmon Yu Sheng. Brought in especially from Japanese, the vegetarian salmon has a taste akin to the real thing, and is served in Japanese restaurants to their diners. The tactical addition of fried fish skin contributes a pleasing crunch to the otherwise delicate dish.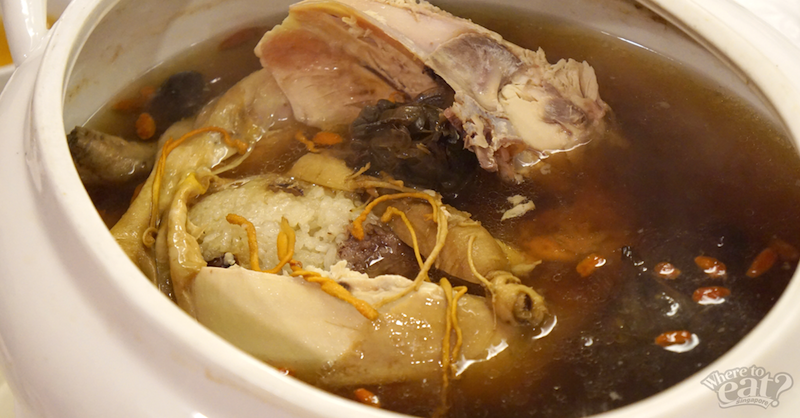 Double-boiling soup is the definition of minimalist Cantonese cooking, combined with a slight complexity. The soup tasted almost supernaturally good: hearty, herbaceous, spiked with nectareous scent of glutinous rice. Double-boiling gently cooks the ingredients, especially the Kampong chicken, until meltingly tender and also creates a complex flavour from a handful of basic ingredients.
Frying spongy, chewy glutinous rice together with sapid lap cheong allows the rice to reach a certain level of fragrance and fried shallots definitely helps in the textural and flavour department.
Peach Resin (also known as Peach Gum), which are sap retrieved from peach tree comes with a texture that resembles century egg, is stir-fried with egg white and then placed on top of fresh greens. If unaware, it'll be hard to tell that there are untold amounts of collagen hiding in the bundles of soft resin.
Immaculately infused with tea leaves, then roasted with patience, the tender-enough duck meat dish would be a pleasant addition to your Chinese New Year dinner.
Every order of glutinous rice cake are freshly made with coconut batter, so you can be sure that you'll be able to have it crisp on the outside and soft and sticky on the inside. Radishes are evenly distributed within every bite of the carrot cake, which are slowly pan-fried on low heat to retain the mushiness within. Both available for takeaway.
The restaurant is open for business throughout the month. For Chinese New Year set menus, visit www.wopeng.com.sg.
Wo Peng Cuisine
60 Eu Tong Sen Street, #03-01/02, Furama Hotel
Singapore 059804
Tel: 6533 2282 / 6534 2282
Wo Peng Cantonese Cuisine
93/95 Owen Road
Singapore 218905
Tel: 6634 7666
Opening Hours (both outlets):
Mon to Sun: 11am – 3pm, 6pm – 10pm
Email: cuisine@wopeng.com.sg
Website: www.wopeng.com.sg
Facebook: http://www.facebook.com/wopengcantonesecuisine