Meet Yan, a Cantonese restaurant where food is served to you based on your preference and budget. It isn't hard to wrap your heads around the breakthrough concept that differs from merely browsing through the menu and ordering directly off it. Trust us when we say you'll be in for a nice surprise when you entrust the entire menu to the chef and have food made especially for you, regardless of your appetite and wallet size.
The new concept draws inspiration from Japan's Omakase cuisine where chefs put together an off-menu dining experience using the best seasonal produce. Often only available in top Japanese restaurants, Omakase cuisine allows you to taste the season's freshest and most unique items.
According to Master Chef Chan Kung Lai, "Traditional Cantonese cuisine is all about freshness, we hope to preserve the natural integrity of each ingredient and present diners the surprise in taste and visual beauty."
You can be sure that you wouldn't be eating the same dishes over and over again with this assurance from Hong Kong born-and-bred head chef. Even if you return to the restaurant a couple of times.
With that preface out of the way, find out what the chef prepared for us during an intimate lunch session.
Imagine fresh crab juices with a tiny bit of spiciness moisting fluffy buns with a crisp crust on the bottom. The brilliant idea of stuffing shredded crab meat into rich, doughy bun makes a satisfying treat for the carb/crab-lover.
Clear-tasting broth saturated with squashy sweetness and imbued with the haunting aroma of winter melon, while tickled by the freshness of lobster.
Finished off with a numbing sensation of Sze Chuan inspired sauce, this is a stir-fry dish that satisfies with flavours both fresh and deep and all manner of harmonious textures.
Lightly battered then quickly bathing under hot oil, this method preserved the firm tenderness of the de-boned grouper fish. Sauteed together with preserved vegetables and lily, the entire dish is a standout.
The slow-roasted lamb rack comes out tender and nicely browned all over, while the trustworthy bacon adds on a nice touch of porky saltiness to the juicy meat.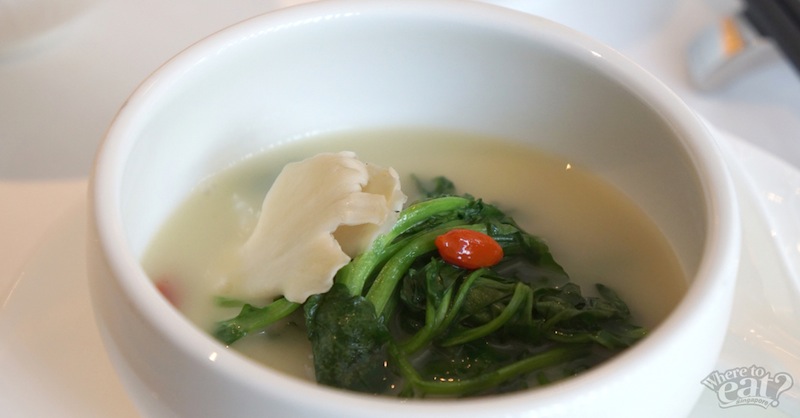 The leafy vegetables are poached in hours-long broth and the Maitake mushroom, also called Hen of the Woods, lends a woody flavour to the overall pale broth.
The rich flavoursome marinade voids any sorts of unwanted displeasure in the eating experience if you're somebody who doesn't indulge in feet or the sorts. As a matter of fact, one could be addicted to this especially when the flesh is soft, gel-like and quick to swallow.
Starting 1 April 2016, Yan's Omakase experience is available for both lunch and dinner and prices start from $60 per person for 6 courses. To enhance the dining experience, wine pairings will also be made available.
Yan Cantonese Cuisine
1 St Andrew's Road
#05-02, National Gallery Singapore
Singapore 178957
Tel: 6384 5585
Opening Hours:
Lunch: 11:30am – 2:30pm
Dinner: 6pm – 10:30pm
Saturday and Sunday afternoon tea: 2:30pm – 5pm
Website: http://www.yan.com.sg/
Facebook: http://www.facebook.com/YanCantoneseCuisine