When we speak of food at Beach Road/Bugis, would you immediately think of chokingly spicy mala hot pot joints? Not anymore when we tell you that in the midst of all these, sturdily sits a modest bistro/bar a few steps away.
Black Tongue serves a menu of Asian-inspired Western-styled dishes and a fair selection of red and white wines from Australia, Argentina, Italy and New Zealand to go with your food, which is always a plus. Tables are comfortably spaced, seating about 30 people (outdoors available). An entire length of handwritten menu on the chalkboard paint adorns one side of the wall, while wine racks filled with bottle of wines furnished the other.
The restaurant's special creation for June – Crispy Inky Chicken Burger – is almost like an abstract art piece. Except it's (totally) edible. Crispy chicken cubes coated in squid ink with smacking tomato sweet sauce served on charcoal brioche bun and a side of toasted nachos and salad.
Serving German lager and blonde beers as its draft beer, there's no reason to keep these accompaniments under the radar. The restaurant has these beer-coupling bites jazzed up, for instance stir-fried salted egg cheese sauce drizzled on straight cut fries.
Another side that would be a beautiful match with your pint(s) of beer has ought to be Crispy Baby Squid and Fries. Deep fried marinated baby squid and a side of straight cut fries served with spicy shrimp dip. 'Nuff said.
Ribs doesn't necessarily need to be grilled, although it would go nicely with fresh open green fields, grill fest and gallons after gallons of hoppy booze. But Black Tongue heighten senses by braising beef short ribs overnight and slapping on homemade Korean sauce.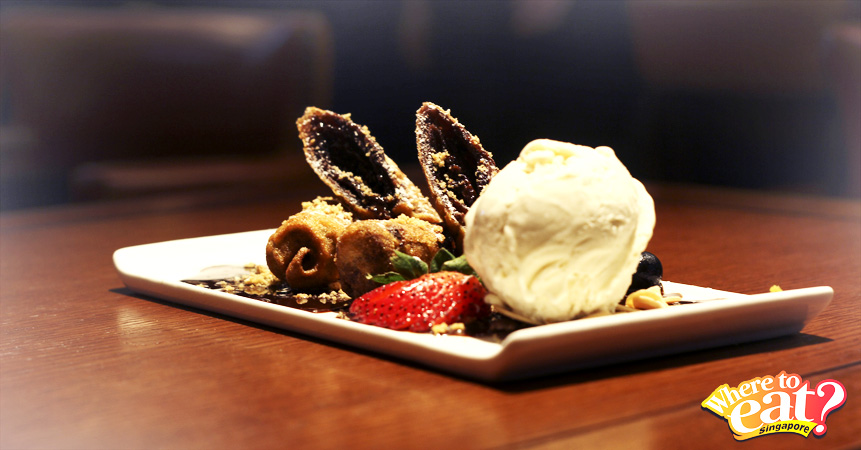 Black Tongue has entered the magical realm of desserts with the Crispy Nutella Chocolate Crepe – crispy battered chocolate crepe, embellished with fallen berries and a scoop of ice cream topped with nutella sauce.
There is also a three-course lunch set with drinks available from 11am-2pm daily at $9.80++. Indulge in more than food; let your hair down on weekdays with their happy hours special from 12pm to 9pm. And they celebrate Friyays with all day happy hour while it starts from 5pm onwards on Saturdays and Sundays.
Black Tongue Bistro & Bar
85 Beach Road
Singapore 189694
Tel: 6333 4474
Opening Hours:
Mon – Thu: 11am – 11pm
Fri – Sat: 11am – midnight
Sun: 11am – 11pm
Website: http://blacktongue.com.sg/
Email: talktous@blacktongue.com.sg
Facebook: http://www.facebook.com/blacktonguebistro