Over the weekend, we had the pleasure of visiting Marugoto Shoukudou for their festive set and extensive menu items that would see families flock during the holiday season. Marugoto Christmas 3 Tier Bento ($45), or Osechi Set, consists of a good variety of fresh seafood and meat delicacies neatly contained in layers of lacquered Jubako boxes.­
The first tier of five appetizers comprises of Aigamo, Potato Croquette, Age Shishamo, Seafood Avocado Crackers and Kani Dashi Maki. Paired with honey mustard, the Aigamo, or roasted duck breast brought about a refreshing aftertaste that will kickstart any languid appetite. The Age Shishamo, or deep fried Smelt, was crisp and rich in taste, while the Kani Dashi Maki, or egg rolled in crab meat, was moist and light. We thought their rendition of salmon with avocado wafered between two crispy crackers was brilliant as the contrasting textures, colours and taste were simply palatable.
On the second tier are chunky slices of Tonkatsu pork, freshly breaded and fried to bring out the strong flavours of the pork. The third tier, complete with fresh portions of Hokkaido Chirashi Zushi and assorted premium sashimi on rice, will leave you pleased and wanting more – although we reckon you have the Christmas 3 Tier Bento to share. That aside, we were told to separately mix the soyu with wasabi before stirring the mixture with a shiso leaf. After that, we poured the mixture over the bed of sushi rice, and the end result was relishable.
Should you prefer to have individual main courses, take delight in the Kimchi Ramen ($11.90) which left a fiery impression on us. The soft boiled ingredients blended perfectly with the well-balanced and spicy soup base. However, if you are not a chili lover, go for the Original Tonkutsu Ramen ($12.90) which consists of succulent charshu and flavoured egg spinach in a concentrated pork bone soup.
Another good choice is the Omu Rice ($10.90) which is a classic recipe of egg omelette stuffed with seafood fried rice and topped special sauces. We especially liked the readiness of the egg omelette as it was light and fluffy, very unlike the common dry and thin ones.
We ended the evening with a decent serving of Matcha Mousse with Strawberry ($4.90) and Creme Brulee with Red Bean Paste ($4.90). The combination of strawberries and crushed peanuts on matcha delivered a sweet and distinct taste, while the red bean paste on creme brulee had a very localised taste.
Apart from the great tasting and wide range of food available, we thought the atmosphere would make an excellent setting for any occasions with the family and friends. Our dining experience at Morugoro Shokudou was a pleasant one and we will definitely be returning for more in the near future.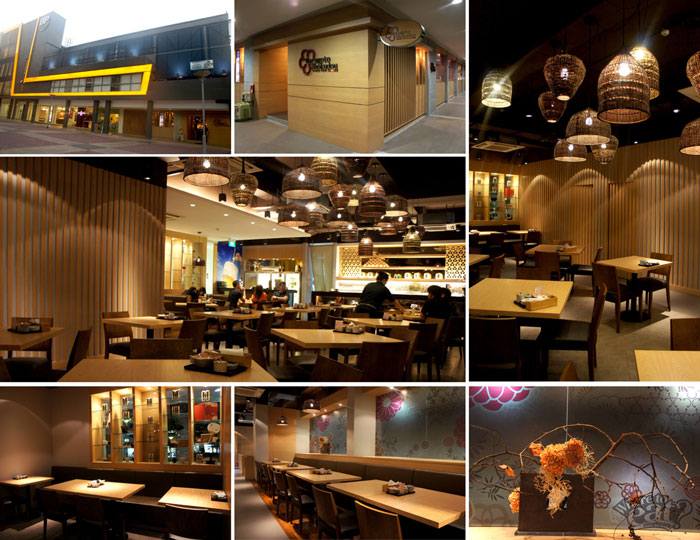 Just to reiterate, do not be taken aback by the lavish look of the restaurant. The food are of affordable prices, and service staffs are warm and friendly. The next time you find yourself undecided on what to eat in Ang Mo Kio, stop over at Marugoto Shoukudou and you will see.
Marugoto Shokudou
Broadway Plaza, 4190 Ang Mo Kio Avenue 6,Unit 01-07,
Singapore 569841
T: 6451 2822
Operating Hours: 1130am – 1030pm
Closed on Mondays during Lunch